Full Size MRI
MedScan Diagnostic Systems, Inc. is pleased to provide a wide selection of MRI options including full body and extremity.
We have many makes and models available so if you have a particular MRI in mind, please call us at (855) 358-6767 OR Request a Quote
Please find just one of many available options below.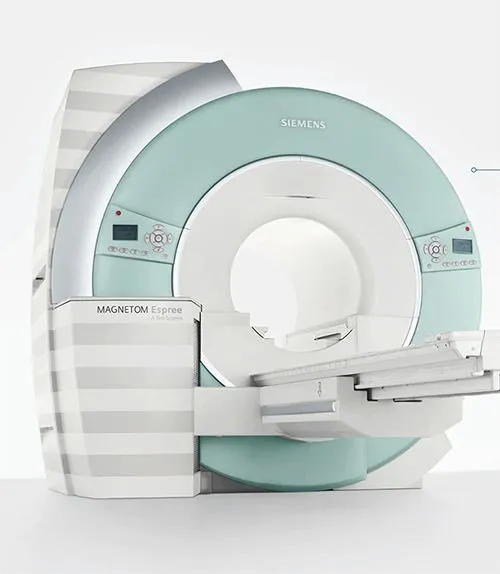 MAGNETOM Espree
Here are the highlights of the Espree
Ultra-short bore 1.5T magnet
Classified with the FDA as an "open MRI"
70 cm bore vs traditional 60 cm bore
60% of scan can be performed with the patients head out of the magnet
Zero boil off magnet
TIM (Total Imaging Matrix) technology
8, 18 or 32 RF channels
1.5T in a unique design.
Leading in patient care.
You are dedicated to providing the best care for every patient. As the world continues to grow and life expectancy rises, you are encountered with a more diverse range of challenging diagnostic questions. In your pursuit of delivering the highest quality care, you utilize advanced MRI technology designed with the patient in mind, enabling more access to quality healthcare.
You are an MRI leader.
Whether you are just beginning to work with MRI or are at the forefront of research. With Siemens MAGNETOM MRI systems, you can be sure to lead. In your clinical field, your research, your business environment – to achieve our joint mission of advancing human health.
Leading. With MAGNETOM.
With more than 1,300 installations worldwide, MAGNETOM® Espree is, quite simply, the most successful Open Bore MRI on the market today. You'll experience revolutionary performance, increased patient satisfaction, and a wide array of applications, enabling you to do more than you ever thought possible.
Advanced Tim technology.
Many high-channel coils for routine clinical applications
Up to 205 cm Field-of-View in whole body
Parallel imaging for fast exams
Trendsetting in patient comfort.
120 cm magnet length
70 cm Open Bore
60% head-out exams
New dimensions in applications.
Proven clinical performance with > 1,300 installations
New advanced applications with the syngo MR B19 software version
Optimized installation requirements
Trendsetting in patient comfort.
With MAGNETOM Espree, you – and your patients – can change the way you think about open MRI. The 70 cm inner diameter makes CT-like comfort possible in an MRI scanner. And, the scanner is remarkably short with 125 cm that enables head-out or feet-first for most exams.
When the patient's head is positioned inside the open bore – for instance with shoulder imaging – MAGNETOM Espree provides 30 cm of space above the patient's face, about twice that of traditional, vertical-field open magnets. As a result, patients are more comfortable, and more relaxed, during the exams.
But reducing patient anxiety is only one of your challenges. How do you image patients who are very obese, or have issues with pain or mobility? With ease, thanks to MAGNETOM Espree's 250 kg or 550 lbs capable patient table and Tim technology, which enables scanning in positions not possible on vertical-field open MRI scanner.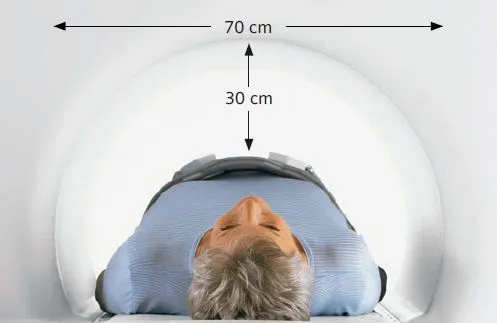 Put your patients at ease
70 cm Open Bore
30 cm of face space
Head-out exams
Comfortable positioning of the joints (e.g. wrist, elbow) next to the body
Accommodate patients with special needs and conditions
Pain and mobility issues
Respiratory problems
Kyphosis
Broaden your clinical possibilities
Easy access in interventional MRI
Opportunities to perform more kinematic studies
Expand your care to a wider range of patients
Obese population (up to 250 kg or 550 lbs)
Claustrophobic patients
Pediatric1 and elderly patients
ICU patients or those dependent upon medical equipment
A clinical perspective.
Unparalleled flexibility, accuracy, and speed – thanks to Tim
Broad range of dedicated applications
Up to 100%2 more signal-to-noise ratio with surface coils
Extended Field-of-View to image the whole disease
With the power of Tim and the simplicity of syngo, MAGNETOM Espree streamlines the entire radiology process, from ordering through planning, performing exams, processing, reporting, and distribution.
Workflow Innovations
syngo Inline Technology: Allows you to perform certain processing steps as early as during image reconstruction and display them immediately after completion. This means processing instead of post-processing. Subtraction images, maximum intensity projection, etc., are displayed immediately after completion of the scan.
syngo Phoenix and PhoenixZIP: Enable simple exchange of MR protocols, quickly retrieving the entire protocol information in one easy drag-and-drop step. This allows reproducible follow-up examinations.
syngo AutoAlign solutions: Facilitates reproducible slice positioning in the head and the spine. No manual adjustments are needed. This maximizes standardization and comparability in follow-up examinations.
syngo.via: The seamless integration of syngo.via further improves not only the workflow right at the scanner. But also the workflows beyond.