Orthoscan DI
Why Orthoscan C-Arm Equipment Is Worth Investing in
The Orthoscan c-arm is medical imaging equipment that can view your body's anatomic structure using fluoroscopic dyes. The c-arm system is non-invasive, making it ideal for screening your body during and after medical procedures. These imaging devices are portable, and their semi-circle design makes it convenient for medical professionals to rotate the x-ray tube without moving a patient.
If your medical facility struggles to get better x-ray images, contact MedScan Diagnostic Systems, Inc. for an Orthoscan c-arm machine that can meet your needs.
Why Your Facility Should Invest in a C-Arm Machine

While most medical facilities are comfortable with the conventional x-ray imaging machines, upgrading to the c-arm equipment's offers plenty of benefits. Here are among the top reasons to purchase Orthoscan:
Increased Usability
The c-arm machine features a touchscreen that comes with on-screen assistance and anatomically programmed selections for ease of use by physicians. The machine's tube head features bilateral controls that offer convenient access to documentation and imaging functions. Unlike most imaging machines, Orthoscan provides excellent illumination, thanks to the LED lights on the underside, which help to remove shadows.
Allows Orbital Rotation
The other top reason to buy Orthoscan is its 150 degrees' orbital movements, which allows accurate and convenient positioning that isn't available in most competitive products. It still features an ergonomically placed wireless foot switch and sterile field controls, helping surgeons work efficiently.
A Lightweight and Compact Design
If you're looking to buy an Orthoscan and your facility has limited space, you'll benefit from Orthoscan's compact and lightweight design. Thanks to their user-driven design, you can transport and position an Orthoscan machine with minimal effort.
Get Better Imaging with Orthoscan
Better patient outcome is essential for any medical facility. Therefore, there's a need to invest in reliable c-arm machines from MedScan Diagnostic Systems, Inc. to be sure of effective medical procedures. Call today to discover more about the benefits Orthoscan has to offer.
NEW – MID-MOUNT MONITOR ARM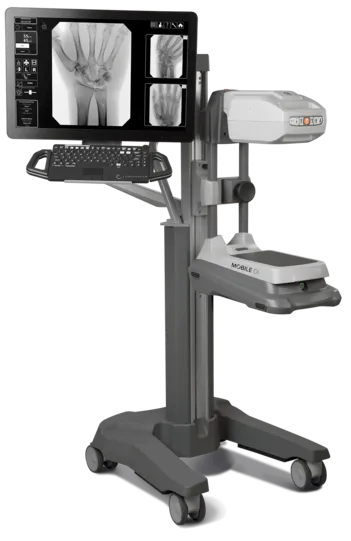 ORTHOSCAN MOBILE DI
Portable Digital Diagnostic Imaging & Fluoroscopy
Mobile Accessory Cart
The Mobile DI accessory cart offers ease of movement between exam rooms, with improved features for users and patients to view x-ray images in real-time. A new articulating mid-mount monitor arm, with increased vertical and horizontal motion, allows for optimal positioning of the display while seated or standing. A redesigned keyboard tray includes conveniently located side-mounted handles for easy manipulation.
Digital Imaging & Flouroscopy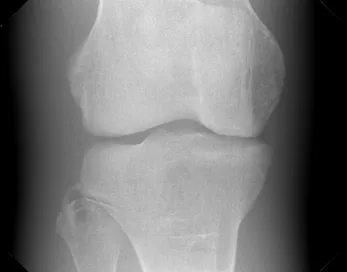 Designed for the office or clinic, Mobile DI is a 35 lb self-contained portable mini c-arm capable of digital imaging and fluoroscopy. Fluoroscopy, or live motion x-ray, allows for additional procedures and captures increased reimbursement.
Increased Reimbursement
With Mobile DI, fluoroscopy can be used in the office allowing physicians to bill for additional procedures. Medicare national reimbursement starts at $50–$100 and, typically, only 3–6 fluoroscopy procedures per week are required to recover the cost of Mobile DI.
 76000 – $47
 77002 – $94
 77071 – $48
*Many more Inspected & Certified C-Arms Available Immediately
*Purchase or Lease with Option to Buy